I'm on a plane to Chicago right now. I just ordered a cup of coffee with cream and sugar. The flight is full. I'm in the middle seat. I'm using in-flight wifi to write this post.
Some might call this an over-under situation.
Are you kidding?
I left at seven, I'll be in Chicago to meet two of my best girls by noon. I'm using the internet at 30,000 feet and someone brought me coffee, with cream and sugar which feels incredible because I just finished the Whole30, aka thirty days in the land of no cream and sugar.
I'm also thinking about the note I got from a brand-new client this morning. We met for the first time last night and today she wrote me to say she's so full of hope and so grateful for me and our work at Girl Catch Fire.
And that's when I saw this - under my coffee with cream and sugar.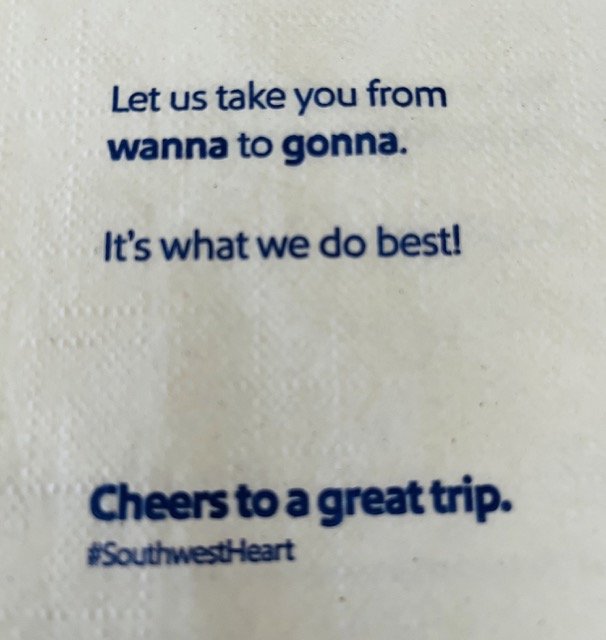 Heck yeah #SouthwestAirlines not only did you check my bag for free but you gave me this little napkin reminder that life is pretty incredible when your mind is clean and tight.
But we forget that don't we? So many of us focus on the middle seat and forget we are in a steel tube hurtling toward some fabulous city like Chicago to play for the weekend with the girls.
I get that struggle happens and suffering is real, but that too is a gift if you realize it provides contrast - the sweet tastes sweeter after suffering the sour.
---
Start Looking For Gifts in Everything.
Remember what we look for, we find. What we aim at we hit. So I could think about this middle seat and how I really need to use the restroom but I won't because the aisle guy is sleeping, or I can focus on that gorgeous little message on the bev nap.
That's what we do at Girl Catch Fire, we help you turn wanna into gonna.
Wanna be more grateful, we can show you.

Wanna become a meditator, we can show you.

Wanna learn to dream big again and believe it's possible? We can show you that too.
I'm proud that I have learned to manage my mind in this way and now that I get to teach others how to do it too. Wanna to talk to us about it?
By the way, this is the back of the napkin. Let's go indeed!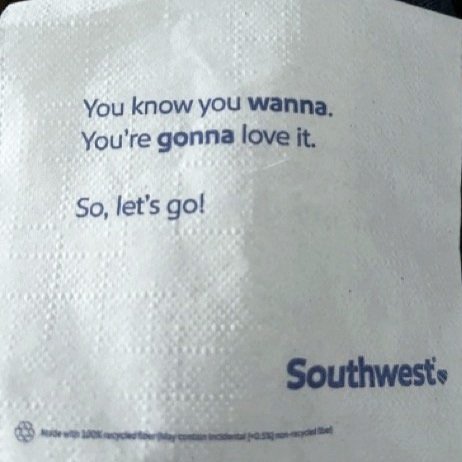 ps. The Meaning of Midlife, our flagship course is open, click here to book a call with us to talk about it. Also, do you know how fun TikTok is? Probably you do, sorry I'm a late adopter but here we are on TikTok.